Trademarks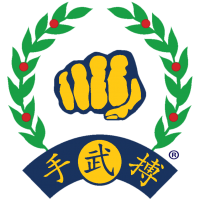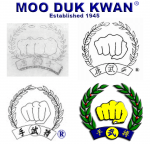 Hwang Kee's Moo Duk Kwan® martial art school's public identity and reputation are highly regarded by many practitioners worldwide.
One of the most widely recognized marks of the Moo Duk Kwan® school used by authorized instructors and students to denote their affiliation is
the fist logo
adopted by Founder Hwang Kee.
Learn more about the history of this legendary and iconic image:
The Moo Duk Kwan History Book
Legacy of the Moo Duk Kwan Fist by Floyd Burke, Black Belt Magazine
Unfortunately, there are sometimes unscrupulous, unauthorized individuals who use the Moo Duk Kwan
®
reputation and identity for their own advantage and in doing so misrepresent themselves and their services to the general public. These acts
are illegal
 and can result in
arrests
, court ordered injunctions and
monetary judgments against infringers.
These "
Joe Cola
" incidents may occur from  ignorance and/or from the malovence of unlicensed instructors or practitioners seeking to capitalize on the Moo Duk Kwan
®
global identity and reputation earned since 1945.
The
World Moo Duk Kwan
and its legitimately authorized entities work tirelessly to actively protect the unique public identity of the Soo Bahk Do Moo Duk Kwan martial art system.
If you have been told that you are training in, or certified in, Moo Duk Kwan and are not currently affiliated with a legitimately authorized
World Moo Duk Kwan entity
(search them
here
) please contact us for information about how you can become a member.  email:
headquarters@soobahkdo.com
Frank Trojanowicz, 75, of South Scranton, died Saturday surrounded by his family after a brief illness. His wife of 51 years is the former Nancy Coolbaugh.
Born in Dickson City, son of the late Josephine Trojanowicz, Frank was a graduate of Dickson City High School. He was an Army veteran and an avid outdoorsman.
Frank began his instructional career in the early 1960s, teaching one of the first Korean (Tang Soo Do) karate classes in the Northeast at the local YMCA in downtown Scranton. From that point, he continued to plant the seeds of what would become a forest of well-known and highly respected students, master instructors and other grandmasters of karate. Several of these men and women would eventually become internationally famous for their martial art feats and abilities.
In those early years, the "Art of Karate" was mostly unheard of and hardly understood. As karate was slowly gaining recognition throughout the country in the mid-1960s and early 1970s, Frank Trojanowicz, as he was known then, was instrumental in introducing many Korean and American martial artists that would later become famous in their own right. He is listed in textbook encyclopedias of the original martial arts, among others, as being influential in the traditions and historical development of karate as an authentic pioneer in karate in North America. He was always unwilling to use his rank and status for self-promotion or public acclaim.
Before acquiring his grandmaster rank and status, he was respected and admired worldwide by those who knew him or had heard of him. He was first an officer and later president of the American Tang Soo Do Association in the 1960s. Later, a master instructor with the Korean Tang Soo Do Association in the 1970s, and after that a senior master instructor with what became known as the U.S. Tang Soo Do/Moo Duk Kwan Federation in the 1980s. In 1982, he became a charter member of the World Tang Soo Do Association. The predeceased legendary teacher of Chuck Norris once said that Frank Trojanowicz was the "best" technician he had ever taught.
Grandmaster Trojanowicz was deeply and sincerely a private man who did not seek attention or recognition for himself, but unselfishly cast light on others. In spite of many hardships, disappointments and discouraging setbacks, he never gave up or put anyone else down. Examples too numerous to mention give credit to his generous spirit in allowing others to be awarded for success and accomplishments that he had promoted or engineered himself. Even as he watched the growth of commercial and sport karate, and the proliferation of questionable ranks and promotions, he always stayed true to his practice of giving others the benefit of any doubt.
Having been affiliated with martial art associations, federations and associations throughout his life, he turned to enjoy a more independent practice for himself and his students in 1994 while maintaining his local, but still well-known Scranton Karate School, and continued to enjoy the respect and recognition of martial artists near and far.
Perhaps one of the most important things he will be remembered for among his family, friends and students is the exemplary manner in which he lived his entire life in the martial arts and abiding by the traditional codes and tenets of karate. He stood by these ideals in such a steadfast manner, that his most loyal and faithful students always appreciated his core authenticity even as it may have been misunderstood and undervalued by others.
Grandmaster Trojanowicz possessed the integrity, the perseverance, humility and an indomitable spirit that encouraged the heartfelt respect and loyal obedience to his authority that others continue to emulate in the Way of Karate.
The legacy of the Scranton Karate School will live on with the knowledge and guidance passed down to his granddaughter, Master Samantha Kenney.
Also surviving are four daughters, Rebecca Kenney and husband, Robert, Scranton; Sharon Bonning and companion, John Notchick, Simpson; Cindy Poland and husband, Howard, Philadelphia; and Carrie Trojanowicz, at home; a son, Frank Brian Trojanowicz, at home; six grandchildren, Justine and husband, Dustin; Sami, Kerstan, Sydney, Emily and Zachary; three great-grandchildren, Addyson, Richard and Dawson; two brothers, Anthony and Joseph Trojanowicz, and many nieces and nephews.
He was also preceded in death by a brother, John; and two sisters, Regina Trojanowicz and Frances Trojanowicz.
Private funeral services to celebrate Frank's life will be from the Neil W. Regan Funeral Home Inc., 1900 Pittston Ave., Scranton.
In lieu of flowers, memorial contributions may be made to Speranza Animal Rescue, 1216 Brandt Road, Mechanicsburg, PA 17055.
– See more at: http://www.legacy.com/obituaries/thetimes-tribune/obituary.aspx?n=frank-trojanowicz&pid=180241545&fhid=22951#sthash.4hNBOrDd.dpuf