World Moo Duk Kwan® Proudly Remembers June C. Perusse, Dan Bon 42847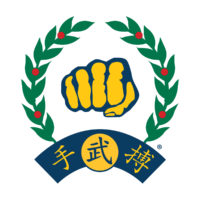 Reading Time:
3
minutes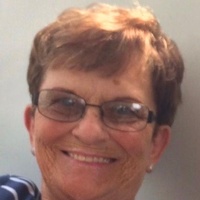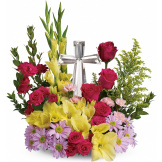 June C. Perusse  August 03, 1938 – May 17, 2019
Kingston – June C. Perusse, 80, of Kingston, NY (and a former longtime resident of Kerhonkson) died at her home surrounded by her loving family on May 17, 2019. She was affectionately known as "Grammy" and "Joonbug". She was born in Queens, NY on August 3, 1938, the daughter of the late Charles and Catherine Pero Sohl. June worked for the Long Island Lighting Company before she decided to stay home and start a family. After many years, June moved upstate where she made many lasting friendships. She was an animal lover and donated regularly to the ASPCA and the Humane Society. She loved to laugh and be silly, but she was also strong and determined when she needed to be.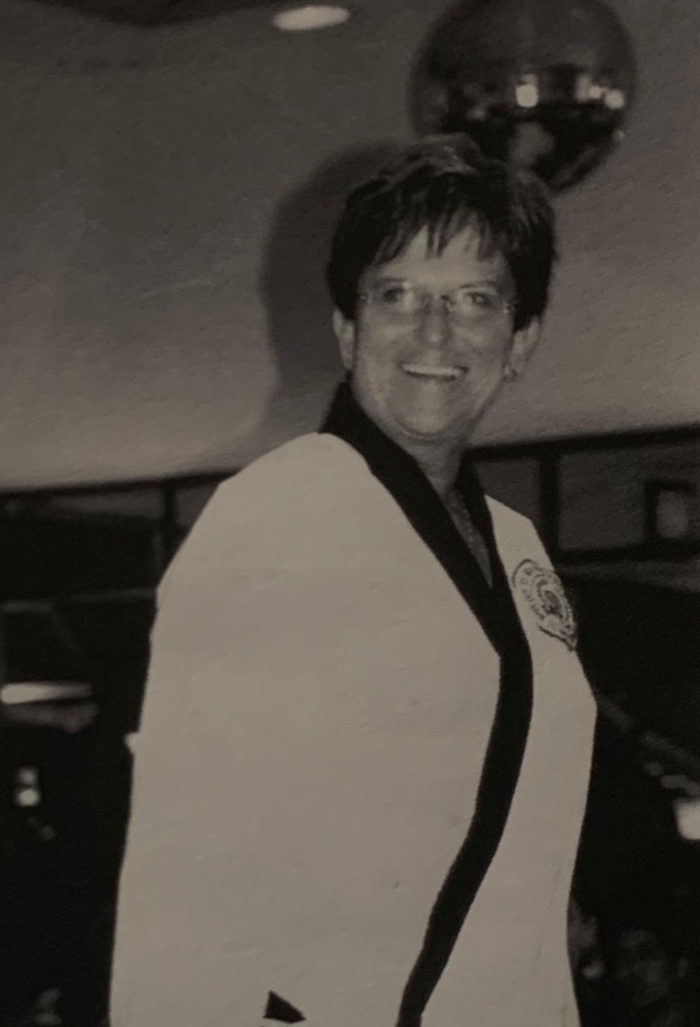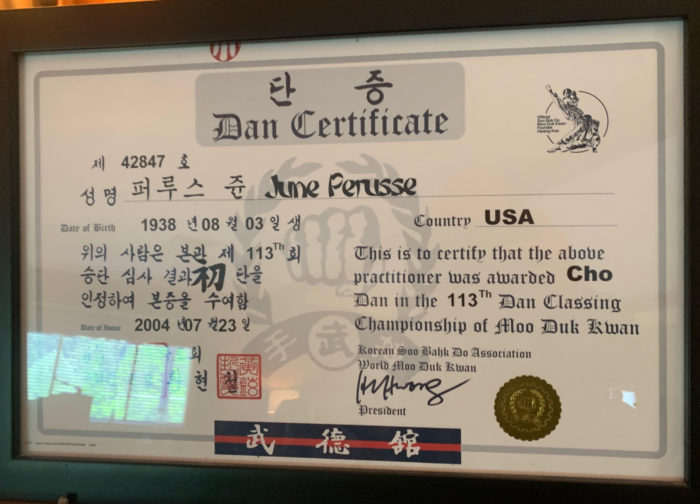 As a testament of her determination, in 2004, at the age of 66, she tested for and earned her first degree black belt in Soo Bahk Do Moo Duk Kwan®.
Her friends who took great care of her during her courageous battle with cancer, and at Kingston Hospital, often said June's laughter was infectious. June loved spending time with her best friend and caregiver Renee Mensche. June was so proud of her family and would light up a smile when she was around her grandchildren. June was pre-deceased by her husband of 32 years, Richard O. Perusse on February 4, 2015. June is survived by her two sons Stephen F. Mulholland (Gail) of Florida, John J. Perusse (Alexis) of Kingston, four daughters Julie A. Kelleher (Jeffrey) of Saratoga Springs, Jennifer L. Mulholland of Kingston, Dawn P. Countryman (Dana) of Wallkill, and Lauri A. Mulholland (Dave Smith) of Accord,and a step-son Charles E. Perusse (Wendy) of North Carollna. June is also survived by three brothers, Charles Sohl (Judy) of PA, James Sohl (Jeannie) of Florida, and John Sohl (Donna) of Deer Park. June is survived by her grandchildren Ashley, Jordan, Jessica, Kacey, Lauren, Caitlin, Tyler, Mason, Tori, Michelle, Matthew, Griffin and Keaton. She is also survived by many nieces, nephews, and her beloved pets Jorja and Birdie Girl.
Visitation for family and friends will be 1 to 4 PM Tuesday May 21 at the George J. Moylan Funeral Home Inc., 2053 Route 32, Rosendale. At 4 PM following the visitation Rev. Arlene Dawber will officiate her funeral service. Cremation will be held privately.
In lieu of flowers the family suggests
memorial
donations to Ulster County SPCA, 20 Wiedy Road, Kingston, NY 12401 or to the American Cancer Society, PO Box 7, East Syracuse, NY 13057.

Began training in 1967 at the age of 16, as a member of the Brooklyn Highland Park Y.M.C.A., under the guidance and training of Mr. Mike Masley, Jr., Dan Bon 10180, and tested for Cho Dan on June 18, 1969.  Now a certified 4th Dan Ko Dan Ja, and was issued his original testing date Dan Bon 13927 by Kwan Jang Nim H.C. Hwang based on his petition to honor that date and evidence showing Mr. Mike Masley and his instructors,  Mr. Robert Sohn, Dan Bon 6037 and Mr. Vincent Nunno, Dan Bon 7291, were legitimate representatives of the Founder, and Kwan Jang Nim Hwang Kee and the Korean Soo Bahk Do Moo Duk Kwan Association in 1969.

Latest posts by Roberto Bonefont (see all)