The World Moo Duk Kwan Proudly Remembers Master Alfonso Jesse, Dan Bon #19747

World Moo Duk Kwan Panama
Reading Time:
3
minutes
With Great Sadness, we have lost another Tang Soo Do (Soo Bahk Do) dedicated practitioner just this afternoon. I was notified by Mr. Geovani Ernesto Padilla Arauz, our current representative in Panama for the World Moo Duk Kwan; that his instructor, Master Alfonso Jesse, Dan Bon 19747, has passed away from terminal cancer.
While he was not known to many of us, he was a very early pioneer of Tang Soo Do (Soo Bahk Do) in Panama, and was a student of Prospero Ellis Sa Bom Nim, who initially brought the Tang Soo Do (Soo Bahk Do) Moo Duk Kwan to Panama during his tour of duty with the US Army.
His teacher was C.S. Kim Sa Bom Nim, an instructor at Osan Air Force Base, Korea. Mr. Jesse was also my instructor during my military tour in Panama from '83 -'89. Mr. Padilla was also a student of Mr Jesse, who taught him since he was age 11, up to his Cho Dan testing.
Mr. Jesse taught us on Fort Kobbe Army Base for several years, including the turbulent years of the Noriega Regime. Mr Jesse also trained three of my co-workers, and a dependent wife, from white up to their Cho Dan Testing. Mr. and Mrs. Rick and Lisa Marie Ortiz, and Gilberto Garcia.
At the time of this notification, I haven't received any information on funeral arrangement yet. Master Jesse was a very motivated and inspiring instructor of Tang Soo Do (Soo Bahk Do) Moo Duk Kwan.
Rest in Peace, My Friend, Teacher, and a role model for many in Panama City, Panama. Tang Soo!
Added information:  Master Jesse was buried in Panama City, on Thursday, Nov 12, 2020.  His family had requested that former students and martial art friends wear their Do Boks to his memorial and burial.  Mr. Padilla, provided an Official Letter of Condolences (a Panamanian tradition) to the family on behalf of Hyul Chul Hwang, Kwan Jang Nim of the World Moo Duk Kwan. 
Letter of Condolences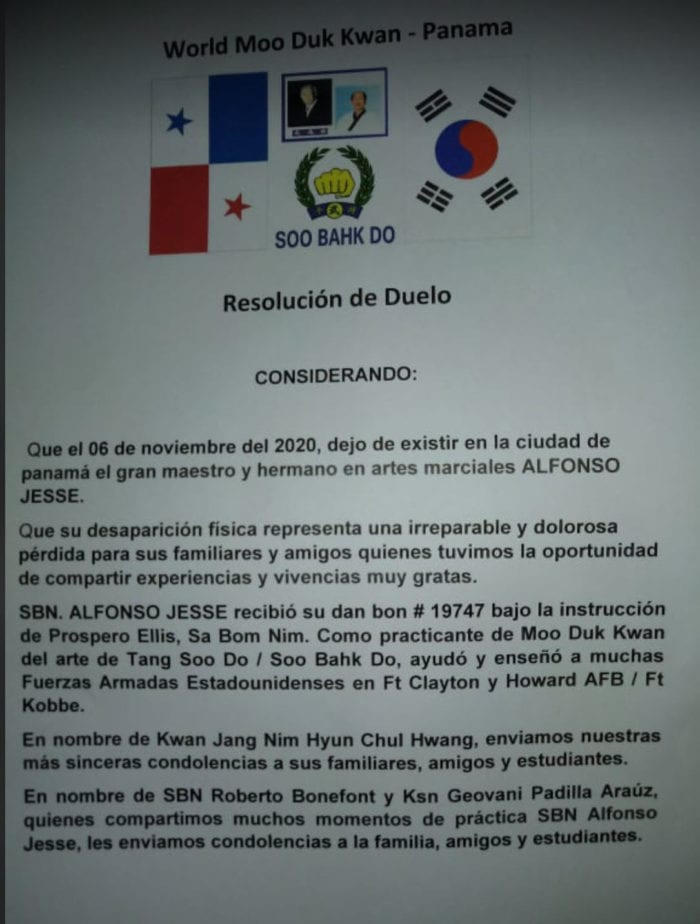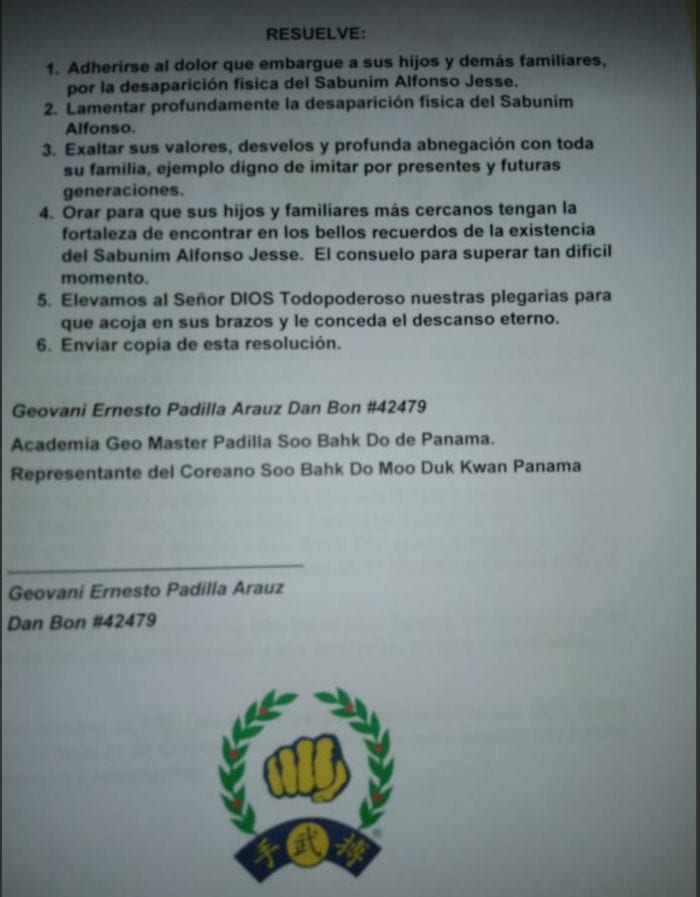 Many thanks to Mr. Geovani Ernesto Padilla Arauz, for providing the photos and videos for this memorial.

Began training in 1967 at the age of 16, as a member of the Brooklyn Highland Park Y.M.C.A., under the guidance and training of Mr. Mike Masley, Jr., Dan Bon 10180, and tested for Cho Dan on June 18, 1969.  Now a certified 4th Dan Ko Dan Ja, and was issued his original testing date Dan Bon 13927 by Kwan Jang Nim H.C. Hwang based on his petition to honor that date and evidence showing Mr. Mike Masley and his instructors,  Mr. Robert Sohn, Dan Bon 6037 and Mr. Vincent Nunno, Dan Bon 7291, were legitimate representatives of the Founder, and Kwan Jang Nim Hwang Kee and the Korean Soo Bahk Do Moo Duk Kwan Association in 1969.

Latest posts by Roberto Bonefont (see all)