Moo Duk Kwan® School Proudly Remembers Eveline Moy Chin Dan Bon #47982
 December 18, 1927 – May 3, 2015
Mrs. Chin's primary instructor has been Gene Riggs, Sa bom Nim, Dan Bon # 26263, since she entered the Moo Duk Kwan discipline in March of 2008, and received her 8th Gup in Sept of 2008.
Mrs. Chin was promoted to E Dan in 2014 under Dan Bon #47982.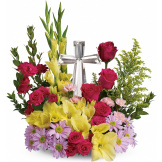 Obituary for Eveline Moy Chin
Devoted wife, cherished mother, beloved grandmother and great-grandmother, Eveline Moy Chin, age 87, passed away in Marshall, TX on May 3, 2015. Eveline was born on December 18, 1927 in Boston, MA. She is preceded in death by her husband, Thomas W. F. Chin; Her parents, Goon Ark and You Shee Moy; her siblings, Jean, William, Thomas and Ruth and one niece, Ruby. Eveline is survived by her children, Ronald D. Chin and his wife, Heather; Karen B. Chin and her husband, Steven Kelly; Gary D. Chin and his wife, Anne; and Laura C. Darrach and her husband, Gregg. She is also survived by her grandchildren, Meaghan Cain and her husband, Trevor; Joshua, Jessica, and Michael Darrach, Thomas and Emily Chin; her great-grandchildren, Tristin, Tre, Mya, Maci and Skyler; nieces and nephews, Madeleine, Charley, James, Claire, Beverly Ann, Stanley, Robert and her beloved 15 year old cat, Tandy. Eveline was an active member of Hillcrest Baptist Church, enjoyed Karate and recently earned her 2nd Degree Black Belt in November, 2014 at age 86. She loved to cook, bake, knit/crochet and spent many hours watching the cooking channels, The Hobbit and Lord of the Rings series. She will be deeply missed by all who knew and loved her. A celebration of Eveline's life will be held on Friday evening at 6:00pm, May 8, 2015 at Hillcrest Baptist Church, Marshall, Texas with Bro. Scott Tagert officiating. She will be laid to rest at Mt. Auburn Cemetery in Cambridge, MA next to her husband. In lieu of flowers, please send donations "In Memory of Eveline M. Chin" to Healing Touch Worldwide Foundation at
www.HTWFoundation.org
.

Began training in 1967 at the age of 16, as a member of the Brooklyn Highland Park Y.M.C.A., under the guidance and training of Mr. Mike Masley, Jr., Dan Bon 10180, and tested for Cho Dan on June 18, 1969.  Now a certified 4th Dan Ko Dan Ja, and was issued his original testing date Dan Bon 13927 by Kwan Jang Nim H.C. Hwang based on his petition to honor that date and evidence showing Mr. Mike Masley and his instructors,  Mr. Robert Sohn, Dan Bon 6037 and Mr. Vincent Nunno, Dan Bon 7291, were legitimate representatives of the Founder, and Kwan Jang Nim Hwang Kee and the Korean Soo Bahk Do Moo Duk Kwan Association in 1969.

Latest posts by Roberto Bonefont (see all)