The World Moo Duk Kwan® School Proudly Remembers – Victor Martinov, Dan Bon 10189, Sa bom Nim, Charter Member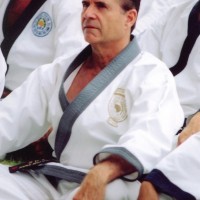 1936-2015
REST IN PEACE, SA BOM NIM
Sa Bom Nim Victor Martinov,  #10189 of Torrance, California was appointed to the B.O.D. by Kwan Jang Nim Hwang Kee in 1975 and a Charter Member. He was elected Vice Chairman and elected and served as Chairman for 1976. In 1991 he was appointed to the Technical Advisory Committee (T.A.C.) and appointed as a member of the Senior Advisory Committee (S.A.C.) in 1999. (Taken from Ted Mason: History Volume 3 – U.S. Pioneers, U.S. Soo Bahk Do® Moo Duk Kwan® Wiki series)
Pyong Ahn Monthly Newsletter Tribute to Victor Martinov, Sa bom Nim – if you want to understand Victor Martinov Sa Bom Nim's dedication to the art, read this article.   Thank you to Fred Messersmith, Sa bom Nim for making this article available.
Photos and videos courtesy of US Federation and Facebook Friends, thank you.
Victor Martinov, Sa bom Nim, was a Charter member of the US Federation since its inception.  Below there are photos showing him involved in the development and founding of the US Federation at the Charter Convention in 1975, held at the JFK Airport Hilton Hotel in New York City.   He was very bit involved in the US Federation until his passing.  He brought great respect to the US Federation and unselfish service toward the goals of the founding charter members to support the wishes of our Founder, Hwang Kee.  He continued his support of the Kwan Jang Nim H.C. Hwang remaining loyal to the art and its Founder, and Kwan Jang Nim.  He will be truly missed by his family, students and friends.