Moo Duk Kwan® School Proudly Remembers Adam Cory Nadiak, Dan Bon #38450
Reading Time:
2
minutes

The World Moo Duk Kwan® School Proudly Remembers…
Adam Cory Nadiak, Dan Bon #38450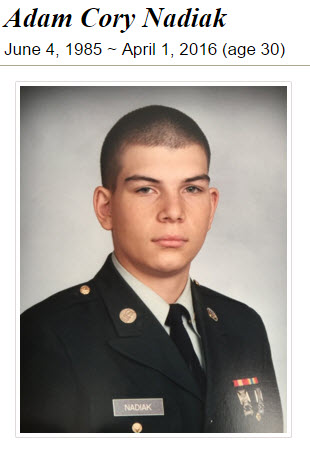 Adam Cory Nadiak of Greenfield Park, NY passed away on Friday, April 1, 2016 at St. Luke's Cornwall Hospital. He was 30 years old. Adam was born on June 4, 1985 in Harris, NY; he was the son of Samuel and Lisa (Poppo) Nadiak.
Adam served his country during the Afghanistan War as a Sergeant in the United States Army.
He had worked as an IT Security/Disaster Recovery Analyst with FlightSaftey International. Adam was a black belt in Karate; he enjoyed golf and sport shooting, and was so intelligent he could build a computer. He loved taking family vacations in Cape May with his mother, sister, aunts, uncles and cousins. He was committed to life-long relationships with anyone he befriended. "When Adam cared about you he cared about you deeply and forever." He will be missed.
In addition to his parents Samuel and Lisa, Adam is survived by his sister Jillian Nadiak. Also surviving are many aunts, uncles and cousins. He was predeceased by his grandparents, Joseph and Leona Poppo.
Visiting will be held on Friday, April 8th from 10 am to 12 pm at Loucks Funeral Home, 79 N. Main St., Ellenville. A Mass of Christian burial will immediately follow at St. Mary and St. Andrew's Church, Ellenville.
In lieu of flowers contributions may be made in Adam's memory to the Wounded Warrior Project, P.O. Box 758517, Topeka, Kansas 66675 or online at support.woundedwarriorproject.org.
To send a personal condolence to Adam's family please visit loucksfh.com.
Adam trained at the Ellenville Moo Duk Kwan Do Jang, Instructors Sa Bom Nim Cort Stinehour and Master Mary Kate Stinehour.

Began training in 1967 at the age of 16, as a member of the Brooklyn Highland Park Y.M.C.A., under the guidance and training of Mr. Mike Masley, Jr., Dan Bon 10180, and tested for Cho Dan on June 18, 1969.  Now a certified 4th Dan Ko Dan Ja, and was issued his original testing date Dan Bon 13927 by Kwan Jang Nim H.C. Hwang based on his petition to honor that date and evidence showing Mr. Mike Masley and his instructors,  Mr. Robert Sohn, Dan Bon 6037 and Mr. Vincent Nunno, Dan Bon 7291, were legitimate representatives of the Founder, and Kwan Jang Nim Hwang Kee and the Korean Soo Bahk Do Moo Duk Kwan Association in 1969.

Latest posts by Roberto Bonefont (see all)